Article by: Charles M.
Last Modified: 2016-03-21 04:32:37


---
Solution: Four Steps to repair Tally Memory Access Violation - (Software Exception 0xC0000005)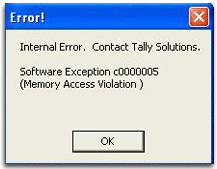 If you have been working with Tally for sometime, you might have come accross 'Memory Access Violation' error with some code - '0xC0000005'. This usually spells doom to many users. Luckly, there are somethings you can do to attempt to solve the problem.
Step 1: Edit the Tally.ini Configuration File
There is a setting that tells Tally to automatically load a company. Supposing the company file is corrupted, you might never start Tally. So disable it. The 'Tally.ini' file is in Tally directory.
Set "default companies from 'yes' to 'no'

Save the file, close and start Tally. If Tally starts without issues, then your default company file is corrupted and you will need to carry out repair outlined later in this article.
Step 2: Adjust Screen Resolution
Tally has issues when being used with fewer colours. Additionaly, different versions of windows have different minimum requirements. Access Display Settings in the control panel and change Display Settings as follows:

Windows 2K/XP/Vista/Win7:
Screen Resolution : 1024 by 768 pixels
Color Quality : Highest (32 bit)

Windows 98:

Screen Resolution : 1024 by 768 pixels
Color Quality : 16 bit High Color

For Windows 98, ensure that Font Size is set to 'Small Fonts' otherwise Tally may goof. Once this has been done, restart you computer and start Tally. If you still have problems, try the next step.
Step 3: Remove/Delete Printers
Yes, sometimes Tally has a thing with printers! Make sure you have printer installation CDs nearby. Delete the configured printers (including vitual printers). Go to Start > Control Panel > Printers & Faxes. Try to fire tally. If it works, re-install only printers that you use and you should be fine.
Step 4: Contact Tally Support
At this point, you probably have a more complex problem - this should not make you give up. Contact Tally solutions for more help.
How to Repair Damaged Company File
Restore older backup
In 'Step 1' above, you might have established the problem to be a corrupt company file.
Change to directory to the location where data is stored, usually 'Data' in the tally folder.
Company files are named using numbers - eg: 1001, 2002 e.t.c. Copy the corrupt company folder to a safe place.
Delete contents of the corrupt compnay folder.
Start Tally and restore your latest backup.
Now, start Tally and you should be fine!
If you encounter 'Memory Access' error while editing a record
Sometime everything works well so long as you are not deleting or modifying a record. I noticed that, for some unknown reasons this problem arises when I try to delete a certain record. I have tried to re-produce this scenario without success. Here is what you can do if you have this kind of problem:
Carry out instructions outlined in 'How to Repair Damaged Company File' above.
Start Tally and press 'CTRL+ALT+R'
You will be asked to rewrite the company file. Select the problematic company and accept to re-write.
Once the process is complete, exit tally.



Start Tally and edit your records without. If you still have difficulties, then contact Tally Solutions.
If the instructions here are helpful, consider leaving a comment below.Share this Article


Reader Comments
[2010-08-30] Giome says:
You can also try:
* Delete the Tally.sav file and check
* Re-install Tally in a different folder and check
* Disable the real time protection of the Anti Virus Software


---

[2010-11-25] Khurram says:
Hi, I have maintained cost centres in tally 9. When I trying to open cost centre summary report, I am getting this memory access violation message. I have deleted all printers but not solve the problem

---

[2011-03-03] ratan says:
my data file is corrupted hence i counl not resove the problem

---

[2011-06-05] dinesh says:
You have to take backup several times in a day to ensure you don\'t lose important accounting data.

---

[2011-08-15] riyaz says:
I want to open tally, I am getting memory access voilation

---

[2011-08-21] vinay says:
internal error

---

[2011-08-26] Sachin Kumar Gupta says:
Please Solve my Problem that was not solve Tally Memory Access Violation - 0xC0000005 please solve as soon as because the return was not submit

---

[2011-09-14] TARUN says:
Tally Memory Access Violation - 0xC0000005 please solve as soon as possible.

---

[2011-09-26] D.muthuraj says:
we are using tally erp9 multi user. my problem is tally server is working. but,other client system is not working. tally displayed active liecence and reactive liecence so on so. please clearifed my problem. thanks

---

[2011-10-01] Farzina says:
How to adjust screen resolution for windows 7 .

---

[2011-12-22] GHANSHYAM says:
i have one problem in my Tally-9 Software, There is come one error, when i open my cost summery then come the message that Memory access violation, c0000005, Please give me idea, please sir.

---

[2011-12-22] GHANSHYAM says:
Hi, I have maintained cost centres in tally 9. When I trying to open cost centre summary report, I am getting this memory access violation message. I have deleted all printers but not solve the problem

---

[2012-01-16] MAYURLAKKAD says:
out of mamory error for excise report

---

[2012-01-18] anil says:
company open probleb

---

[2012-03-02] G.Rajeswari says:
Sir, We have the problem in taaly 9. Pbm: Exiting Tally File damage File damaged need to rewrite. Please kindly send the solution

---

[2012-03-11] Rakesh Patel says:
Hi, We are using Tally 7.2. Since yesterday one company is not being shown in \"Select Company\" list. While checking the data file of that company, it is present in the tally \"Data\" folder. I cant understand this. Is the data file corrupted? If yes then how can I make it appear in the \"Select Company\" list again so that I can work on it. Look forward to your response. Read more: http://www.megaleecher.net/Tally_Software?page=1#ixzz1opQ0ql3w

---

[2012-05-12] santosh says:
thanx sir, \'CTRL+ALT+R\' is very usefull for me........thanX ,,,,, thNKS A LOTTTTTTTTTTTTTTTTTTTTTTTTTTTTTTTTTTTTTTTTTTTTTTTTTTTTTTTTTTTTTTTTT

---

[2012-05-29] Sunder Singh says:
On May 29, 2012 I found the problem in my Tally 7.2 i.e. Internal error. Contact Tally Solutions. Software Exception c0000005 (Memory access Violation) What I did? Just delete the printer setting from printer menu. and Open the Tally 7.2, then press Ctrl+Alt+R, select the corrupt company folder and ENTER. After completion of process, exit tally and then start the tally and really the problem is solved out. Thanks to this web page & as well as Tally

---

[2016-04-04] nauratan prajapat says:
hello sir,

---

[2016-04-14] Durga Rao Korupuri says:
Tally 7.2 i.e internal error conatat solution software Exception c0000005 (Memory access Violation solve the problem

---

[2016-04-21] Dirga Rao Korupuri says:
Tally 7.2 Internal error software Exception c0000005(Memory access Violation) please solve the problem

---

[2016-05-10] Baguma George says:
I have an error Tally Memory Access Violation - (Software Exception 0xC0000005) But have checked all solutions adn still failling. Please help.

---

[2016-06-10] kumar says:
Thank you...for this information.

---

[2016-06-10] bibinraj says:
sir me have doubt regarding a tally error ...today while me begin to back up data....tally produced an error that ..can not backup.....and later me shut down my system and again re start tally ...at presently which sgowing an error that tally error contact with tally solutions ....how me have to overcome these errors..4

---

[2016-07-22] Sumit Bhatia says:
Sir, As you mentioned it should start after changes in config file. In my case it doesn't work, even after doing "yes to no for default company" steps mentioned above. If any other option to update this forum will help us. Pl. help

---

[2016-07-29] spandana says:
default companies is aleady 'No' but it is showing same error

---

[2016-07-29] vipin says:
facing same problem of error message of software exception and memory access violation.

---

[2016-08-03] NANDHINI says:
internal Error contact Tally solutions . software Exception 000005 memory Access violation

---

[2016-10-20] ROHIT BHAGERIA says:
AT THE TIME OF RE WRIGHT ERROR SHOWING IMPROPER ACCESS WHAT TO DO NOW......

---

[2016-10-24] bheemalinga says:
how to solve memory accesses violation

---

[2017-01-10] Nitin says:
I m using tally7.2 . I have entered the data in it from 1.4.2016. The data file gote damaged on 20.12.2016. So I went for the option of rewriting. It did rewrite but in 2 phases. Now it is only displaying the records of only 2nd phase from 1.7.2016. I want my records from 1.4.2016. How to combine both phases.

---

[2017-03-04] yejaj says:
hello

---

[2017-03-04] yejaj says:
TALLY 7.2

---

[2017-04-25] Ashok says:
Assessable value is missing in vat classification vouchers in out put vat but vat amount is indicating how to i can find out assessable value Thanking you sir

---

[2017-05-03] dinesh says:
Software exception c0000005 memory access violation in tally 7.2?

---

[2017-06-03] Rajendra Hajare says:
When I pass excise entry sale purchase both when select party name after dispatch details that time this error message showing internal Error contact Tally solutions . software Exception 000005 memory Access violation But before installing printer

---

[2017-07-12] ajay bidaliya says:
error is .. function address 0x8006911c caused a protection fault(exception code 0xc0000005) some or all property page(s) may not displayed

---

[2017-07-12] ajay bidaliya says:
error is .. function address 0x8006911c caused a protection fault(exception code 0xc0000005) some or all property page(s) may not displayed

---

[2017-08-11] Nikhil kumawat says:
Software excepgiant c0000005

---

[2017-09-08] Rayees says:
In tally ERP 9 when I want to try to select printer I got a function error code Ox12005b2c caused a protection fault exception code no 0xC0000005 some or all page property may not be display i am using windows 10 plz some this error

---

[2017-09-21] Ajay Kumar Agrawal says:
says internal Error contact Tally solutions . software Exception c0000005 memory Access violation in tall tally 6.1

---

[2017-09-21] Ajay Kumar Agrawal says:
says internal Error contact Tally solutions . software Exception c0000005 memory Access violation in tally 6.1

---
Post your Comments