Article by: Charles M.
Last Modified: 2016-03-05 10:57:58


---
Solution: How Can I see The webcam Icon in My Computer as It comes in Win XP?
Straight answer? Not windows 7! When using your webcam in your Windows XP , its easy to take photos of yourself by opening 'My Computer' icon and there you see your webcam and take photos of yourself. If you upgraded to Windows 7, that functionality is missing. What can you do if you want to take photos?
This is not a 'missing driver problem' ! If your webcam's driver is not installed, then you have to install it first and make sure no yellow question mark on it in the windows device manager. Here is mine: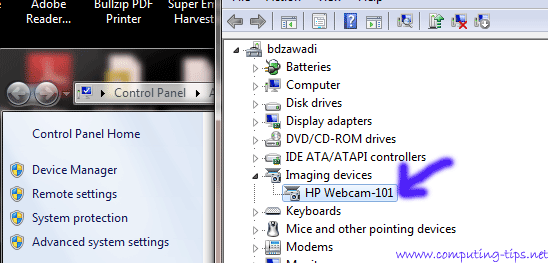 Now install AvaCam, a small nice utility for capturing your photos through your webcam! You can download it from here
Once installed, launch it: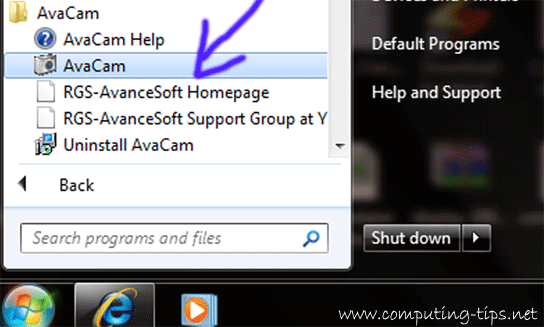 The Avacam windows shows up. Click 'Start' to view camera.

Avacam will start displaying your image. To save the image to a file, click 'SnapShot'.
To view photos taken, you can click 'Viewer' on the left side of the above window.


Reader Comments
[2011-02-22] prakash says:
realy its wonderfull,thanks alot

---

[2011-06-07] leslie says:
it works but all i get is a green screen!!! what is going on.. i have windows 7

---

[2011-04-19] gogi says:
This is gr8. Thanks!

---

[2011-08-06] Jay says:
Can this be tweaked to use the PS3 Eye on the PC?

---

[2011-10-14] affotey says:
can not see my webcam icon on my laptop,need to fix this.i need your assistance.

---

[2011-12-30] alexander says:
its low yet i have good ram and it has bad focus can you help me out

---

[2012-02-16] Jo Cloud says:
I want to use my webcam that is on my computer

---

[2012-04-17] Aditya says:
hello... i want to use web cam to click images how can i do it.... m using windows 7 with pc

---

[2012-05-01] damir zablocki says:
wonderfull,thanks

---
Post your Comments