Article by: Charles M.
Last Modified: 2016-03-21 11:30:52


---
Fix for MFC-990cw - Unable to print 46
Error No. 46 is common with brother printers.'Error 46: Unable to Clean' usually means that printer's ink absorber in the base of your printer is filled up with waste ink and continuing printing could cause ink overflow.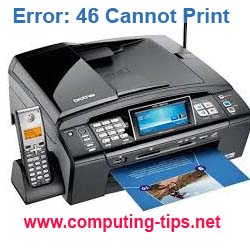 Steps to clear 'cannot print error No.46' on MFC-990cw
Power your brother MFC-990cw and when you see 'Unable to print 46', close the message.
Hold down "copy" and "scan" buttons simoulteniously or press 'MENU' on the touch screen (either of the two).


Press "mono" button


Press "Scan" key four (4) times.
The brother MFC-990cw's Screen should read "MAINTENANCE"
Enter '80' on keypad displayed
Now, press "Scan" and "Copy" buttons simmoulteniously to show navigation keys on the touch screen


On the keypard use "up" and "down" keys to locate "PURGE XXXX", where XXXX is a number.
Type 2783 on the keypad - his will reset purge counters
Press Exit to return to normal screen


Press 99 on the pad to exit 'MAINTENANCE' mode.
Done! Your Brother MFC-990cw should work normaly

Remember to open the printer later and actually empty ink absorbers

Please share this page in your Facebook.






Reader Comments
[2016-09-01] Angel says:
Perfecto, problema solucionado. Gracias.

---

[2017-02-09] gerlace says:
comment chercher l'autere cite?

---
Post your Comments