Article by: Charles M.
Last Modified: 2016-03-05 10:57:58


---
Share with friends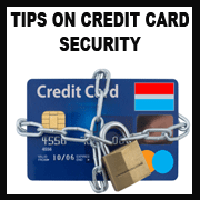 Credit card usage is on the increase and so is card fraud. Cards have come to simplify life. You can purchase anything you want online and pay with your card and have the item delivered to your door step, do internet banking, all in the comfort of your sitting room! Chances of transacting with a fradulent website are high among other risks. You can do a couple of things to wade off these risks.
Always keep your card and online bank information safe. Don't let it out of your sight. A common misconception is that so long as you have your card with a secret PIN your bank account is safe - wrong! With internet, someone can spend your money from your online bank without the need for your PIN! Keep all your card information as a secret. Do not show off your card to everyone! Some might copy the details on it and start spending your hard earned cash on the net.
Your password for your online bank is only good if its kept a secret! Use hard to guess passwords not your daugher's name or birthday!
The computer you use for online bank transaction must be safe. Safe from viruses, worms, malware, spyware among others. Your internet banking can turn into nightmare if your PC is turned into a zombie!
Install updated Internet Security sofware (includes antivirus, antispyware, antirootkit among others) - preferably the ones you pay for! Free antivirus do not offer comprehensive protection.
Ensure your antivirus system is always update.
Install and use updated version of Firefox Browser.
Ensure you operating system e.g: Windows is updated and licensed!
Schedule full system scan and clean anything found by antivirus.
Be careful they way you work with USB keys (aka flashdisks). Viruses from infected systems can be acquired through these devices.
These are just but a few.
Among other points, observe the following:
Avoid sites that offer free stuff like music, videos, 'full downloads', Keys - free is expensise. Most of these come with spyware & malwares.
Use your credit card only on secure websites. Sites that are secure start with "https://". Always check this before you log into your online bank or use your credit card.
Avoid using your credit card on a shared computer such as a cybercafe. These could be infected with malware that might capture your passwords and credit card information.
Use a virtual keyboard to enter your login and credit card information. Virtual keyboards help in avoiding keylogers from intercepting your data as you type with physical keyboard.
Do not open attachements from suspicous emails - especially thoses that claim you have won a contest you didn't even participate in!
Find out about reputation of websites that you wish to transact with. Google around and look on reviews about the site. Keep off websites with bad reputation.
Read agreements you enter into on the web during purchases. Look for hidden susbriptions & costs.
Register with companies such as Paypal who protect your card information when purchasing through participating online stores.
Avoid performing internet banking on a hotspot wifi. These wifi connections are usually insecure. Someone could eavesdrop and get your credit card or online bank information
Offlate, there are so many scam mails purporting to come from various financial institutions asking you to either confirm or update your information.
Usually if you start the process, you are lead to a fake website that looks identical to your online bank website, eventually fraudsters get your credit card and online bank details.

Likewise, do not open emails that appear to inform you that you have won a lottery you did not participate in! Ask yourself, "how can I win a lottery I did not take part in?". Usually, in the end they ask to pay some form of fee to process clearing of your payment and thats the catch!

You can do the following to be on the safe side:
Do not reply or click links if you receive a mail that purports to come from your provider. If you feel its a legitimate email, contact your provider immediately.
Report suspicious emails to your provider
Downlaod and install iconix from http://www.iconix.com . This program identifies legitimate emails from participating financial service provider such as paypal or your online bank.
Nice Internet Security software are usually able to pick a few of such emails and protect your online bank information.
If you lose your credit card, call your card provider and your online bank immideately and let them know. If you stumble on a credit card that does not belong to you, cut it into two pieces.
With these five points, you will be sure to protect your internet banking andminimize risk of falling into the hands of fraudsters!
Go back to the top of the article
Home Cinema Systems : Shop online for home cinema systems at low internet prices and fast home delivery service - avcinema.co.uk


Reader Comments
[2010-10-13] Willy says:
Bagaimana caranya membuat notebook NB200 agar wireless nya berfungsi?

---

[2011-08-14] onlinebank says:
I have read a lot about online bank and internet banking. This is good information. My online bank told me my credit card is frozen. What does that mean. I think some online bank that issued my credit card is playing games. How do I deal with my online bank?

---
Post your Comments